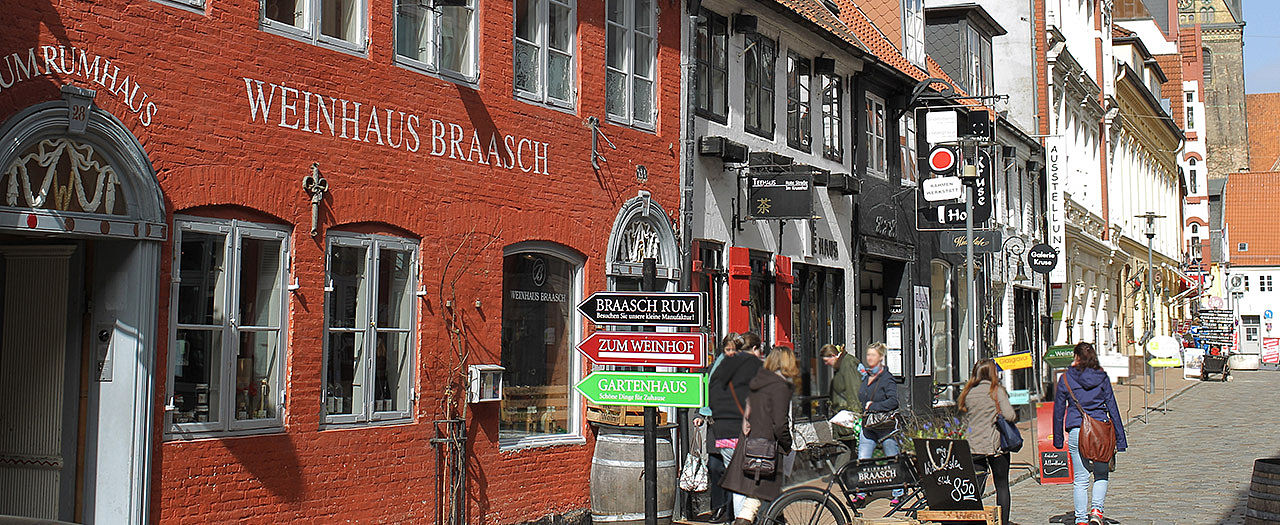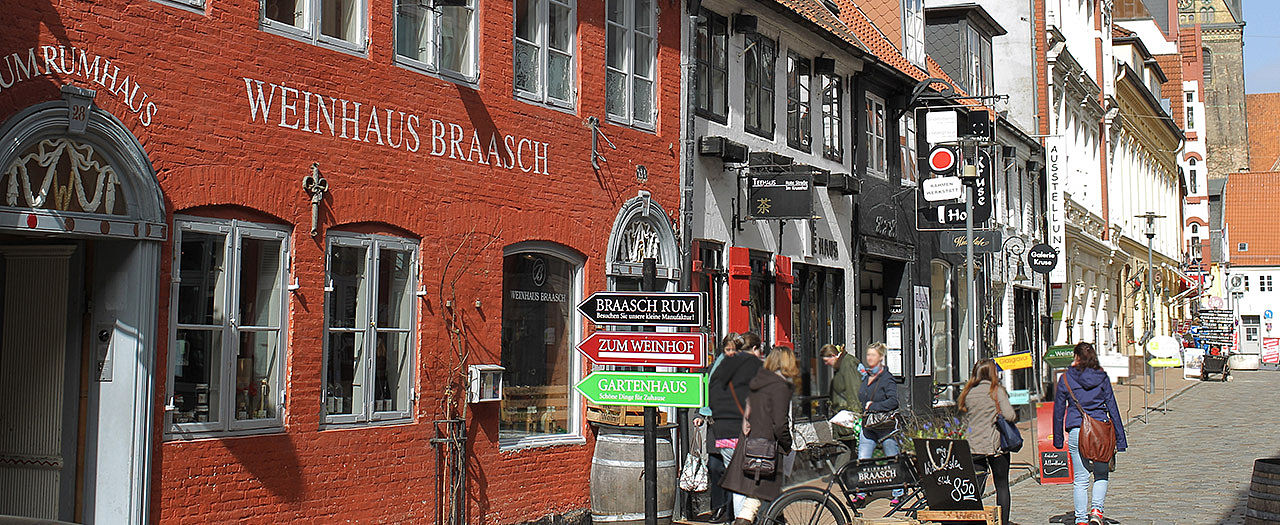 Stroll at your ease
Shopping in Flensburg
The Scandinavian influence can be seen everywhere in downtown Flensburg. Many modern stores present the latest trends of its neighbor to the north. But even elsewhere, the offerings leave nothing to be desired – a broad assortment of goods awaits guests well beyond the city center. The city's major shopping malls are just a few minutes by car from Hotel Alte Post. Even when it rains, you can keep your feet dry as you window-shop products from major chain stores and unique local items.
Our shopping tips:
Rote Strasse
Probably the prettiest shopping center in the north, this street tempts visitors with quiet back streets and small shops. You'll find much to delight you here, from fresh coffee to unusual home decor.
Grosse Strasse
A variety of cuisines sets the northern part of Flensburg's pedestrian zone apart. But this part of the city also has several interesting shops to offer.
Holmpassage
The cozy shopping arcade boasts a long tradition today. While the first floor offers numerous bistros for dining, fashion boutiques take over after that.
Holm
The southern portion of the Flensburg's pedestrian zone is home particularly to shops from well-known brands. But here too, it is worthwhile to explore the little merchants' courtyards. The Südermarkt is a popular meeting place for enjoying a coffee or ice cream in the summer.
Flensburg Galerie
The biggest shopping arcade in the downtown area offers a wide variety of stores and restaurants spread over four floors. From books to consumer electronics to cosmetics, this arcade has it all.
CITTI-Park
Once designed exclusively as a market for wholesalers, the CITTI-Park has become the city's largest shopping mall after numerous renovations and additions. With plenty of parking and an inspiring variety of stores, it makes a great destination for the whole family.
Förde Park
In the southern part of the city there is another large shopping mall, Förde Park. Here, on one floor, numerous businesses cater to everyday needs, but there are also fashion, consumer electronics, sports equipment and other stores.
Scandinavian Park
The gigantic shopping area close to the Danish border is known primarily for its supermarket of the same name. Customers will find a large selection of Scandinavian groceries and drinks here. But in the environs as well, interesting shops and tempting restaurants await visitors. Particularly good for children: Mr. Scandis Funpark, an indoor amusement park.